Overview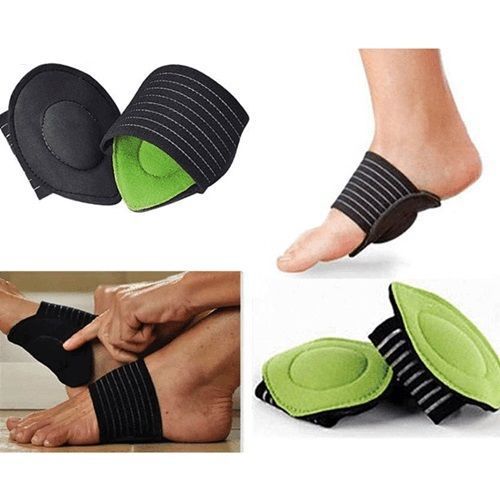 Fallen arches, the medical term for
flat
feet, are simply feet that do not arch in the middle. Such feet lay
flat
with the whole of the
sole
on the ground. All children are born with
flat
feet, but as they grow the feet normally develop an arch so that by the age of ten almost all children have arched feet. Occasionally a child will not develop properly arched feet. This may be due to a bone malformation present at birth, or abnormalities in ligaments within the feet or legs that cause the child's weight to be unevenly distributed.
Causes
There are a number of different causes that can lead to
flat
feet or fallen arches. These include, birth defects, while technically not a defect as such,
flat
feet can be a normal finding in patients from birth. However, a condition called tarsal coalition may occur where some of the
bones
in the foot are fused together resulting in a flatfoot. Inflammation or damage of the posterior tibial tendon. This tendon forms the end of a muscle that connects the lower leg to the foot, winding around the ankle and attaching to the inner
aspect
where the arch is normally present. The main role of the posterior tibial tendon is to invert the foot and maintain the arch height throughout the gait cycle. Torn muscles of the leg and foot can cause
flat
feet. Problems with the nerve supply to the muscles can result in reduction in tone and fallen arches. Fracture dislocation of the
bones
in the foot. Severe arthritis. While these are the common causes that can result in fallen arches and
flat
feet, it is important to recognise that there are certain risk factors that can also lead to this condition. These include advancing age, diabetes mellitus, high blood pressure, obesity and pregnancy.
Symptoms
Most people do not exhibit any symptoms of
flat
feet, but if the condition is due to an underlying problem, symptoms can include foot pain, mainly in the arch or heel areas, difficulty standing on tiptoes, swelling that occurs on the inside of the ankle, pain in the calf,
knee
, hip, or lower leg area, both feet lie
flat
on the ground with no gap, Shoes may not fit properly, heel may tilt away from the midline of the body more than usual, absence of foot arch when standing. If you are experiencing these symptoms and have
flat
feet, you should consider seeing your doctor or a podiatrist immediately for an examination.
Diagnosis
It is important for people with foot pain to know if they have
flat
feet. The following tests can help you determine your arch type. When you get out of a swimming pool, look at your footprint on the concrete. The front of the foot will be joined to the heel by a strip. If your foot is
flat
, then the strip is the same width as the front of the foot, creating a footprint that looks like a stretched out pancake. With a normal arch, the strip is about half the width of the front of the foot. If you have a high arch, only a thin strip connects the front of the foot with the heel. Put your shoes on a
flat
table and view them at eye level from behind. See if the
sole
is worn evenly. A
flat
foot will cause more wear on the inside of the
sole
, especially in the heel area. The shoe will easily rock side to side. A
flat
foot will also cause the upper part of the shoe to lean inward over the
sole
. Both shoes should wear about the same way. If you have pain in one foot, you should make sure you don't have a fallen arch on that side. There are two good tests you can perform at home to detect this problem. Place your fingertips on a wall that you are directly facing and stand on your tiptoes on one foot. If you can't do it, a fallen arch may be the culprit. Stand with your feet parallel. Have someone stand in back of you and look at your feet from behind. You can also do it yourself if you stand with your back to a mirror. Normally, only the pinky
toe
is visible from behind. If one foot is flatter than the other, the 4th and sometimes the 3rd
toe
on that foot can also be seen.
pes cavus
Non Surgical Treatment
In rare cases, surgery may be needed if a child has
flat
feet caused by a problem they're born with (a congenital abnormality). The foot may need to be straightened or the
bones
may need to be separated if they're fused together. Painkillers and insoles are the first treatment options for
flat
feet that are caused by a joint problem, such as arthritis or a torn tendon. However, surgery may be recommended if the injury or condition is severely affecting your feet. Where
flat
feet are caused by a condition that affects the nervous system, special shoes, insoles, or supportive foot or leg braces may be needed. Again, in severe cases, an operation may be needed to straighten the feet.
Surgical Treatment
In cases of
flat
feet that have progressed substantially or have failed to
improve
with non-surgical treatment, surgery may be required and in some advanced cases, surgery may be the only option. Your foot and ankle surgeon will determine the best approach for you.
After Care
Patients may go home the day of surgery or they may require an overnight hospital stay. The leg will be placed in a splint or cast and should be kept elevated for the first two weeks. At that point, sutures are removed. A new cast or a removable boot is then placed. It is important that patients do not put any weight on the corrected foot for six to eight weeks following the operation. Patients may begin bearing weight at eight weeks and usually progress to full weightbearing by 10 to 12 weeks. For some patients, weightbearing requires additional time. After 12 weeks, patients commonly can transition to wearing a shoe. Inserts and ankle braces are often used. Physical therapy may be recommended. There are complications that relate to surgery in general. These include the risks associated with anesthesia, infection, damage to nerves and blood vessels, and bleeding or blood clots. Complications following flatfoot surgery may include wound breakdown or nonunion (incomplete healing of the
bones
). These complications often can be prevented with proper wound care and rehabilitation. Occasionally, patients may notice some discomfort due to prominent hardware. Removal of hardware can be done at a later time if this is an issue. The overall complication rates for flatfoot surgery are low.